Most people who are interested in traveling to this part of the world have heard of the massive salt flats near Uyuni in Bolivia. What most don't know is that the same thing exists in Argentina too, at Salinas Grandes near Purmamarca.
The road from Salta in Argentina to San Pedro de Atacama in Chile is a wild, barren and very beautiful one in our humble opinion. Highway 52 runs from the tourist attraction town of Purmamarca (Hill of Seven Colors fame) to the border with Chile, and on to San Pedro the other side. Purmamarca is found around a 2 hour drive from Salta, and then a further hour or so takes you up the very steep and impressive Cuesta de Lipan to Salinas Grandes. The 2 km vertical climb through the giant cacti is an adventure in itself and great photos can be had along the way.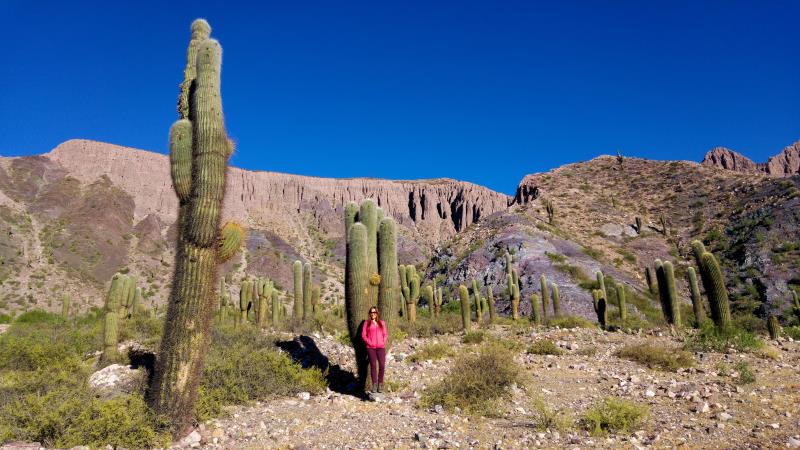 This huge, dried-up lake appears on the horizon several kilometers out, a long band of white which gradually gets larger until it fills the horizon. Most of the 212 square kilometer expanse is some 30 cm thick with salt. Some of it is being gathered, farmed, harvested? (not really sure how to describe it!) – manually. Men are cutting pits, extracting the salt into piles and then loading it into bags, which you can witness quite openly.
One of the main bonuses of this visit is that it is not over-run by tourists. Uyuni in Bolivia is way more famous and as a result is visited on a mass scale. Here at Salinas Grandes you can drive out on to the salar, if you have a private tour vehicle of course, and literally not see anyone else. The photo below had to be taken with a tripod as we didn't see anyone for at least an hour. Uyuni might be more spectacular, but here you can have the whole place to yourselves.