There seem to be more and more treks or visits to multi-colored hills appearing on tour sites, social media and travel news recently. South America has its examples and we visited one of the most spectacular a few days back and thought we would jump on the bandwagon and share.
The start of the 160 km long Humahuaca Canyon (Quebrada de Humahuaca) is located 3 hours drive to the North of Salta and is a very popular area to visit due to its lovely landscapes, ancient ruins and living culture of Andean people. This area has the most traditional, old-fashioned feel of any of the regions of Argentina and quite rightly was named a UNESCO World Heritage Site in 2003.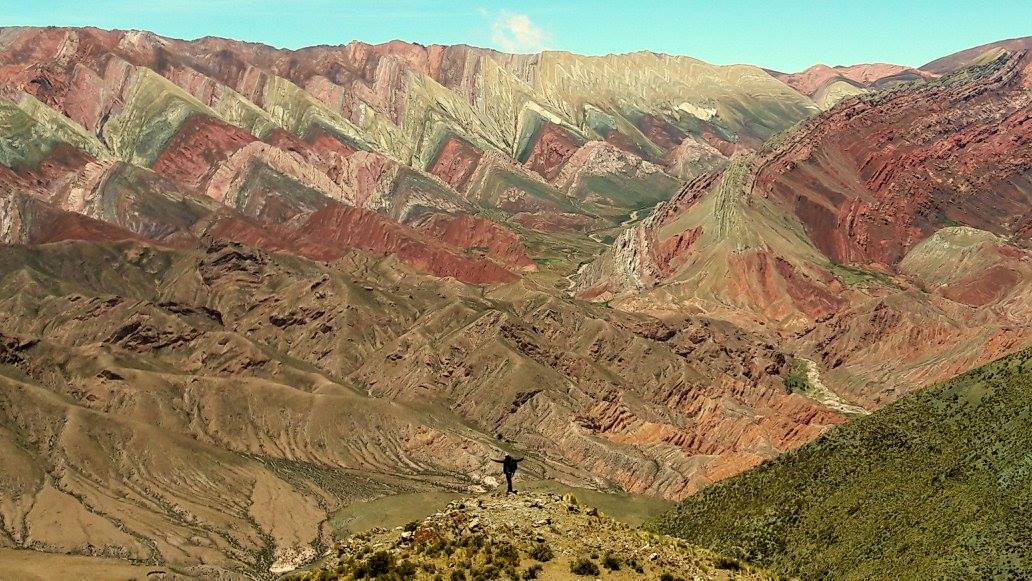 The photos above in the Facebook link show the Hornocal mountain range, which has beautiful strata of 14 colors (difficult to count admittedly!) and is located high on the Puna at around 4200 meters above sea level. This mountain range is reached from Humahuaca in around 45 minutes along dirt roads which gradually climb on to the dry, high plain from the valley.
After paying a small fee to enter the area the first view-point is where the cars park but you shouldnt just view the colored ridges from there, unless you have knee issues. The best views are to be had 10 minutes walk down hill to the edge of the next ridge, and for an EVEN better view (which you can see above) you should walk another 10 minutes down to the last ridge. The best photos can be taken from here.
It is said that the best views are in the afternoon when the light is best, but any time and the range is lovely. The lowest viewpoint gives the best vistas of the range and the valley below, but remember what goes down must come up in this case…the walk back is a bit steep and you will be breathless at altitude so take it easy!