We work with a large selection of Cafayate hotels across a broad price range. If you require a hotel of a specific type, style, certain facilities, special requests etc, basically whatever you need – just let us know. Below are just a few of our favorites in the Cafayate wine region:
Asturias Hotel Cafayate
The Asturias Hotel is a 3 star superior property in a period building which was completely renovated in 2012 with several modern facilities. The 57 rooms are complimented by an outdoor pool, gym, sauna and spa. There is also a cosy restaurant where guests can enjoy breakfast and other meals. The hotel has an excellent location close to both the main square in Cafayate and the wine museum.

Viñas de Cafayate Wine Resort
This is a vineyard-based hotel nestled within the vines a short distance from the town center. The views from the extensive common areas, pool and room terraces are hard to beat. Rooms are very well appointed with heating and air conditioning, minibars, walk-in closets, large TVs and bathrooms with bathtubs. You can relax by the fireplace or by the pool, enjoying a wifi connection should you need it. The hotel has its own wine cellar where tastings can be made, and you can wander the vines just outside your window.
Grace Hotel – La Estancia de Cafayate
This property is the most famous of the hotels in Cafayate and has a great reputation for quality and service. The Grace has beautifully decorated rooms that boast a 42 inch HD LCD television with satellite channels, complimentary Wi-Fi, iPod/iPhone docking station with alarm clock and radio, air conditioning and under-floor heating, Nespresso coffee machine and luxury bathroom amenities. The resort also has a Gym, Spa, heated pool and one of the most prestigious golf courses in South America.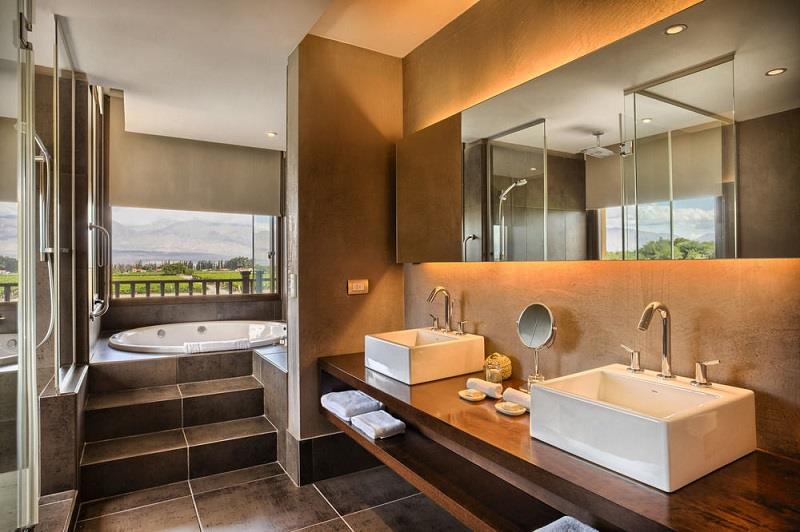 Killa Hotel
This is one of the most charming of the Cafayate hotels and is located a few steps from the main square and is well equipped for a small hotel. All 15 rooms have different names and characters, plus they have air conditioning, heating, ceiling fans and in-room safes. Bathrooms are modern and well-appointed with bath tubs, hair dryers and amenities. The Killa Hotel boasts an outdoor pool plus a bar and restaurant, in addition guests can enjoy wi-fi to stay connected during their stay in the wine region.
 La Casa de la Bodega Hotel
This 8 room, boutique wine hotel has an exclusive feel to it and is located some 18 km from the center of Cafayate, or 15 minutes drive away. Since 2006 the hotel has been welcoming guests and showing off its own winery and hosting wine tasting and tours. Each room at the Casa de la Bodega boasts a view of the extensive gardens or vineyards and have well equipped bathrooms with a jacuzzi. There is a minibar in the room, also a smart TV, DVD players, heating and air conditioning to cover all seasons for your visit to the wine region. The hotel also has an outdoor pool.
Patios de Cafayate Hotel
The Patios is one of our very favorite hotels in Cafayate. This high quality vineyard hotel is nestled among the vines a short distance from the town center. The 32 rooms and suites have views of the vines and mountains which form the spectacular backdrop in this area.
Drone overflight of hotel and vineyards
The hotel has some lovely common areas and gardens with a lovely outdoor pool, sun loungers and parasols. In the rooms guests enjoy wi-fi, cable TV, air conditioning, safety boxes, hair dryers and minibar. This hotel has its own vineyard surrounding it which guests can enjoy.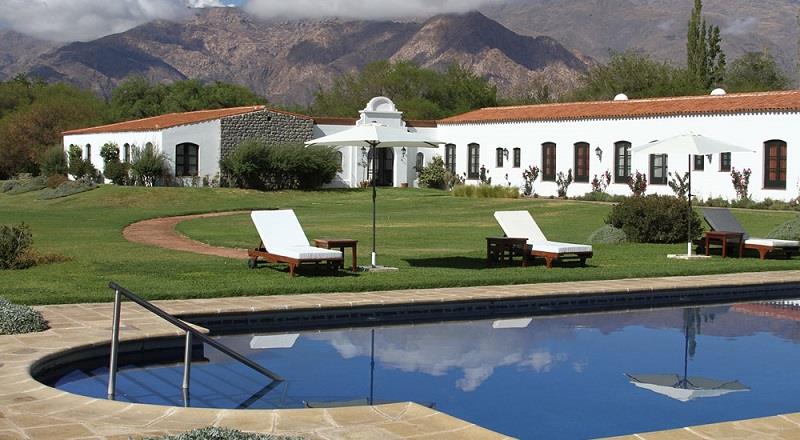 Hotel Villa Vicuña Cafayate
This charming 12 room boutique hotel is very well located near the main square of Cafayate and is a great base for wine and outdoor enthusiasts visiting the area. The rooms have individual decoration and are well equipped with air conditioning, robes, blackout drapes, cable TV, toiletries, wi-fi, safety box and minibar. Being within the town you can easily stroll out for lunch or dinner, or enjoy some last-minute shopping for souvenirs after your wine tours.