Many people will have heard of the Pantanal in Brazil, but how many of you knew that Argentina has the same wetlands ecosystem? When you are visiting Iguazu we can arrange a superb tour to show you many aspects of the very North of the huge country of Argentina, these lovely wetlands, its wildlife and the Gauchos that call the area home.
This tour to the Esteros de Ibera (named from the Guarani phrase y bera meaning "bright water") is offered privately, but some clients may be able to take advantage of our shared, fixed-departure tours. Feel free to get in touch after reading all about it below.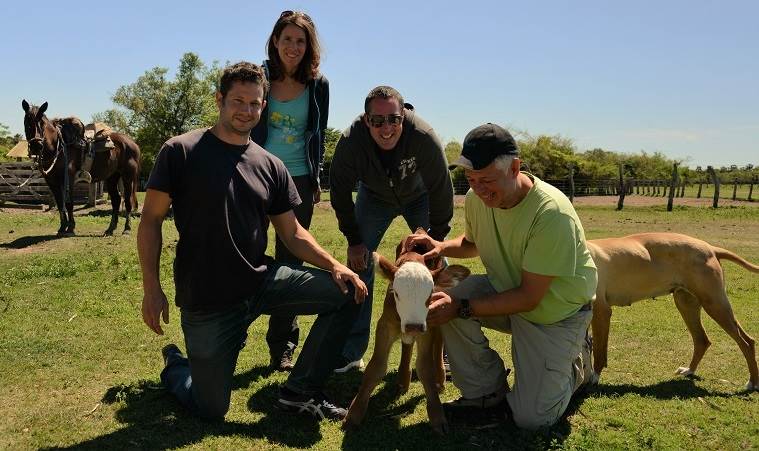 The region is not very much visited by non-Argentines and hence you will enjoy a very authentic experience which we enhance with our local knowledge, activities and contacts in the region. If you have a specific interest then we can cater for that, or just enjoy our activity suggestions which are a mix of wildlife encounters, cultural exchanges and culinary adventures.
Click here to see our Facebook album for this tour.
There are a number of lodging options but our favorite is the Irupe Lodge. This place is located on the edges of the small town of Colonia Carlos Pellegrini some 200 km from the main access city of Posadas. This visit meshes very nicely with time spent at Iguazu falls and the journey from Iguazu to Ibera via Posadas is an interesting one in itself. An overview is shown below:
Day 1 – Iguazu to Posadas, visit gem mines, orchid and Yerba Mate farms plus Jesuit ruins en route. This is not just a transfer, it is a learning experience and a great day out.
Day 2 – Posadas to Irupe Lodge, wildlife spotting afternoon / evening. The transfer is interesting in itself again, down dirt roads towards the wetlands. Plenty to choose from in the afternoon.
Day 3 – Full day of activities in the Esteros de Ibera. See options below, and click our Facebook. You really have lots of options and round the day off with the nightime asado, perfect!
Day 4 – To Posadas for onward flight or long distance bus (to Buenos Aires or Salta most likely). Depending on your onward travel time you might be able to fit something else in.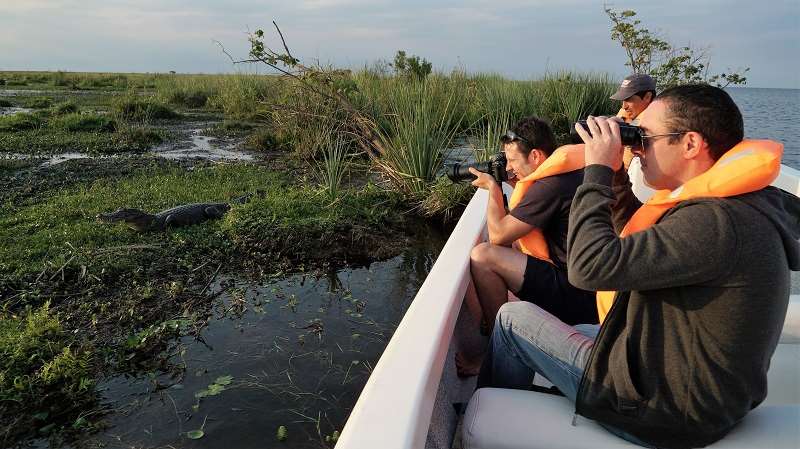 Boat Safari. Enjoy a cruise around different areas of the Ibera swamp and its myriad of small channels. You will get the chance to see a large variety of wildlife such as alligators, capybaras, swamp deer, giant otters and many types of birds…and from very close up as you can see from our photos. The animals have not learned to fear the boats very much and you can get some great photos without a huge zoom lens. The safaris can be taken in the morning, afternoon or at sunset and last about two hours.
Night excursion by 4×4, boat or on foot. A very different experience hearing the strange noises from the swamp at night while observing nocturnally active animals and an incredible view of the stars with virtually no artificial light interference. The gleaming eyes of the caiman add a special touch of adventure. Tour duration of around one and a half hours.
Combo-Safari. Our staff guide you silently through the watery highways of Esteros de Ibera. You will see and learn about the caimans' peculiar way of nesting and incubating its eggs, protected by the dense vegetation of the many floating islands. You will observe dozens of species of birds such as the majestic Jabiru, ducks, the wattled Jacana and maybe the yellow Cardinal which is in danger of extinction.
Getting off the boat at a remote wooden bridge you will explore the surrounding countryside on horseback with a real life Gaucho, and probably his dog! The ride takes you along the lake and through Caranday palm tree forests, reeds. Jungle forms a backdrop of wild beauty that will make you feel liberated in the natural world, something probably missing from your normal day-to-day. Upon arrival at a remote cattle and buffalo ranch you will get to know the Gauchos´ families and adobe houses and enjoy a picnic. You will be out and about for around 5 hours and the return trip to the lodge is made by vehicle in around 30 minutes.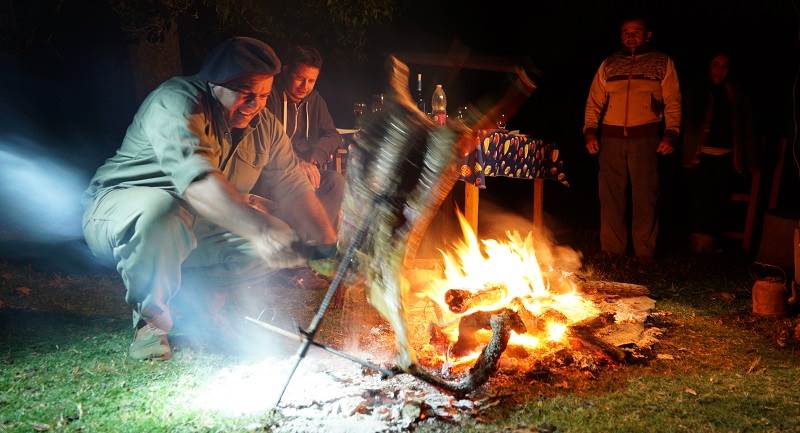 Evening Asado "al fresco". This is a great evening out in the countryside followed by a traditionally cooked Asado, Gaucho style. Time is spent visiting the simple house and farm of a local family and they are happy to show you what they do and take questions from you via your guide (assuming you don't speak Spanish of course). We will wander the local countryside with the farmer, soaking in the atmosphere and as night falls you will witness the incredible star-scape. One of the staff would have started preparing the lamb roast before you arrive at the nocturnal picnic spot but as you can see in the photos the meat keeps cooking for a long time, as you snack a little and drink wine. When the meat is ready tuck in, there is always plenty to eat. Late in the evening its back to the lodge by vehicle.
Day in the countryside. This full day trekking on foot or on horseback will get you to a very remote area on the Ibera wetlands lakeshore where people still live without cars and even electricity. You will visit several gauchos and their homes and you'll get to know their families, their daily work and traditions of working with hide and sheep wool. Besides the cultural experience side of today you can observe the wildlife of the "pampa humeda" such as ostrich, owls, vizcachas (wild rabbit), skunks, snakes and many birds. The duration of this day out is around 8 hours, with horse riding or trekking time of 2-3 hours approx.
Horse ride. Enjoy a ride through the small, isolated village and its surroundings, get to know the typical adobe (mud brick) construction style of the houses here, the school, and the plaza. After you leave the village you will ride through natural pasture lands until arriving at the waters edge where beautiful palm tree forests are home to hundreds of birds. Have a few laughs with your local gaucho guide and his dog (if you speak dog Spanish!). Duration 2.5 hours, and there are horses for beginners and for experienced riders whether you want to walk, trot or gallop.
Visit to the Iberá nature reserve centre. This visit can be fitted in almost anywhere in your day as it is close to the lodge. Enjoy a guided walk through the park museum and the surrounding jungles observing howler monkeys, capybaras, deer, forest birds etc. With park ranger guide. Duration 1.5 hours approx. At the end of the visit, if there is interest, you can watch a short DVD about the biodiversity and food chains of this natural habitat "Esteros del Iberá".
Just take it easy! What a lovely place to do it, just kick back and enjoy the view with a glass of Argentine wine. If you have an extra day open to you feel free to just relax…you are on holiday after all. The food at the lodge is great and of course you cannot go wrong with Argentine wine.
Please ask us about any of these options to see how they can fit into your schedule and how you can visit Iguazu Falls either before or after, and anywhere else in Latin America of course.
It's what we do!