Iguazu Falls is a visit you will remember for the rest of your life and this huge rupture in the Earth's crust is a true natural wonder. To get some idea of the scale take a look at the photo below and you will see the comparative size of the walkways top right and bottom left. Walkways show you the falls from above and you can take boat trips to see them from below, prepare to get wet!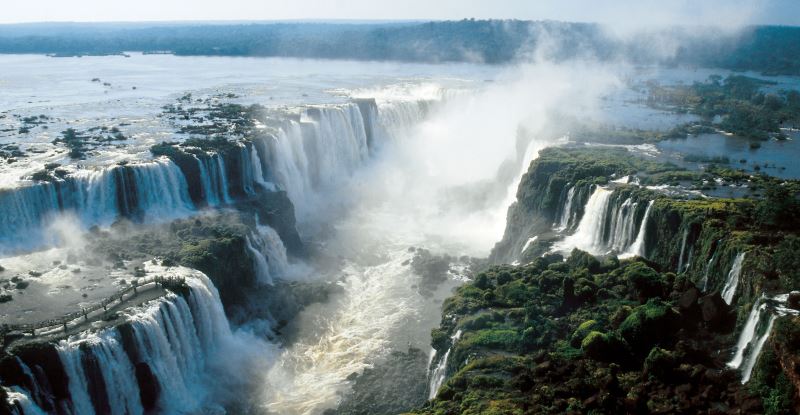 The falls can be visited on either the Argentine or Brazilian side, but often people stay two days so they can see both sides of the falls, this is the option we highly recommend. The name Iguazu is derived from two words in native Guarani language meaning "water" and "big". Big water is a little bit of an understatement we think! 
According to local legend a deity to the Guarani people planned to marry a beautiful woman named Naipí, who decided against marrying a god and escaped with her human preferred choice Tarobá in a canoe. Sent into a rage by this, the angry god sliced up the river, creating the waterfalls and condemning the lovers to an eternal watery fall. The first European to come across the falls was the Spanish conquistador Álvar Núñez Cabeza de Vaca in 1541.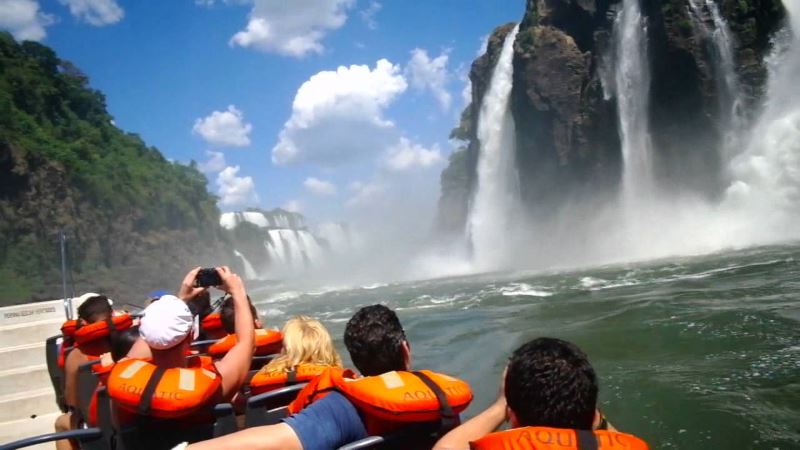 With plenty of notice (and an extra charge of course) we can arrange for you to visit the falls at night when the full moon is due. The experience is one you will never forget, standing close to this huge torrent of water in the dark will give you goose bumps. The photo below was taken recently by Gary and even this beautiful shot fails to capture the majesty of the place by full moon, there was even a moon-bow created by the spray.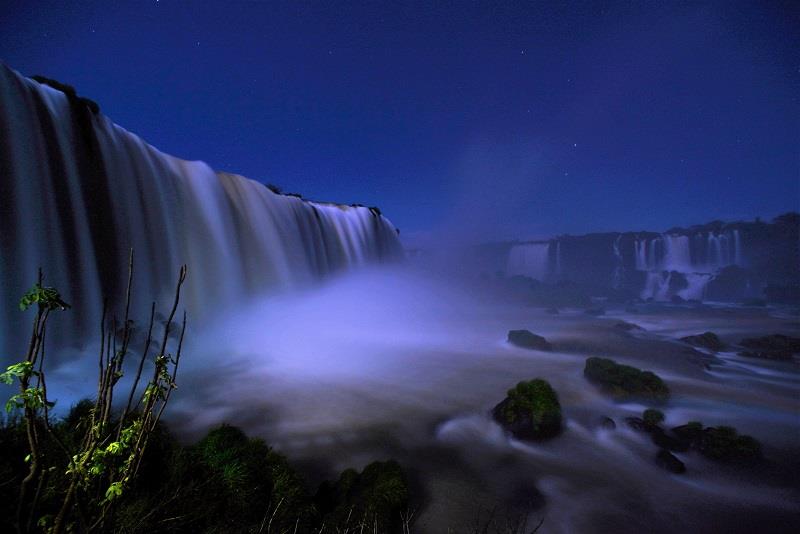 Puerto Iguazu (Argentina) and Foz do Iguacu (Brazil) are both served by flights from all over South America so getting to the falls is quite easy. There are several services from Buenos Aires each day, giving you plenty of connection options. Both sides of the falls are located quite close to the cities also, making them accessible for a quick visit if you are on a tight schedule. We can in fact have you visit both sides of thew falls with only one night spent in the area, however that is a little rushed and therefore two nights would be much more comfortable. Ask us to fit Iguazu Falls into your Argentina tour schedule.