Sala de Payogasta Hotel and Winery – Exhale and Relax!
The Calchaqui Valleys located not far from Salta in Northern Argentina are renowned for their high altitude wines and rugged desert adventure, but this is also a region where you can seriously relax and decompress from your everyday life. The area of Payogasta near Cachi is a prime example of full-on relaxation, and copious amounts of quality wine cant hurt!
Video of the Sala de Payogasta Winery and Hotel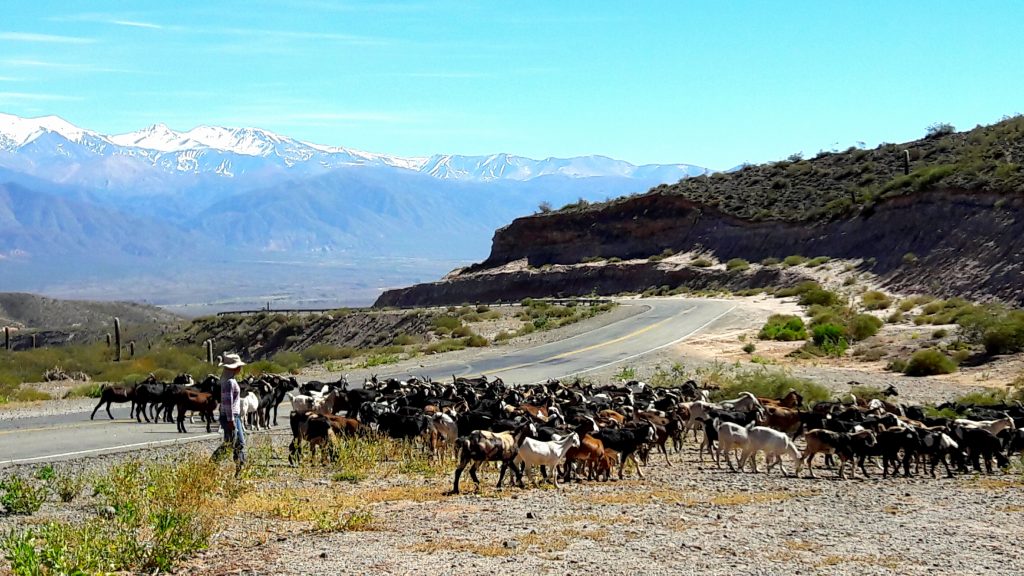 As soon as you drive out of Salta life slows down and when you arrive in the Payogasta area it slows down even more. Rural people go about their business in a way that hasnt changed much in decades, tending their crops and animals manually. There are bell peppers and spices drying on the ground in vast carpets of red and green, these crops have been harvested by hand and are manually loaded into bags for transport to market. A wide variety of local fruits are hand-made into preserves by farmers that have long since been experts in extracting the most they can out of this relatively unforgiving landscape.
There is the wine of course, but only small vineyards dot the landscape here as opposed to the larger vineyards found in Cafayate (much more on that in future blogs) and the huge ones in Mendoza. The Sala de Payogasta hotel has its own small vineyard producing wine of the same name as you can see from the videos. Goats, sheep, horses, donkeys, cows and bulls invade the roads sometimes so we take our time driving you around. When we visited last week we even witnessed a shepherd singing to his sheep in very nice, very loud Baritone voice (maybe Tenor!!!) and the sheep seemed to love it, and we certainly did.
Sala de Payogasta Hotel and Winery 360
There are a number of mid-range and high end hotels in the area of Payagasta and Cachi which we use for our clients, all very comfortable. The one we were checking out on this trip was the Sala de Payogasta Winery and Hotel. The Sala de Payogasta has been restored to its current condition with the original structure maintained and enhanced. The very thick adobe (mud brick) walls keep it warmer in winter and cooler in summer, and the rooms are well appointed to ensure a comfortable stay. The central courtyard is a real treat and the views of the Andes mountains from the breakfast and dining room are spectacular. As the day passes the colors change according to angle of the sun, great photo material.
Wandering the nearby countryside, walking 20 minutes into the village or a short drive to the town of Cachi are all options from this hotel. In the Cachi area there are several vineyards you could visit to compliment Sala de Payogasta, Miraluna is a favorite. Whatever you decide to do you can take a deep breath in the fresh air and wind down nicely, enjoy!